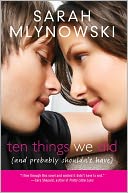 Ten Things We Did (and Probably Shouldn't Have) by Sarah Mlynowski (June 2011; HarperCollins Publishers)
If you know me, you'll know that I tend to not... think before I do. So when I heard the title for Sarah
Mlynowski
's newest book was
Ten Things We Did (and Probably Shouldn't Have)
, I was, in a word, hooked.
I wanted to know what these ten things were and why they shouldn't have done them. When I want to know something, it will eat at me until I know. So on the train home the day I received
Ten Things We Did
at BEA, I opened it and started reading.
1 girl + 1 non-boyfriend boy + no pants = Kelly intrigued
I turned to page two and read, "why was I in bed with boy who was not my boyfriend without any pants on?" Okay, I was going to love this story. Besides the fact that my friends and I have a joke that I hate wearing pants, I knew April was my type of girl. The type of girl I would totally be friends with.*
While the first few pages are a great introduction to the story, the scene Sarah sets first actually takes place near the end, so as the chapter ends, I was full of questions. What was going on here? Why wasn't April wearing any pants? Where was the boyfriend? As much as I loved
Ten Things We Did (and Probably Shouldn't Have)
, it started out slow. Sarah took time to set up April's story - and she has good reason for it.
Ten Things We Did
is almost every 16 year-old girl's dream world. April Berman's father and step-mother are moving to Cleveland, but she doesn't want to leave her Connecticut school, friends, or boyfriend. So her father agrees to let her stay and live with her best friend, Vi. But Vi's mother is the lead in the tour cast of Mary Poppins, which has just left to launch from Chicago! So with a lie to April's father here, and a lie to Vi's mother there, the girls begin living alone.
This is why April's back story is important. We need to learn all about April's life before she really starts living with Vi. Honestly, I was impatient. I wanted the goods! I wanted April to be alone with her boyfriend for them to have sex! I wanted to know why there was a strange boy in April's bed! I wanted to know who this strange boy
was
!
So, I pushed through the back story, and like with every other
Mlynowski
book, I finally became addicted.
OMG, you guys. This book is super-mega-foxy-awesome.
I am very grateful that Sarah took her time with the pace of the first 100 pages, because all those details we learn are so important to the mystery, suspense, and joy that the end brings. Since I finished the book before the official pub date (Thanks, BEA!), I kept recommending it to my friends. This past week, I was very happy to receive this text: "omfg just finished ten things! amazing!!"
And it is at that. Actually, "amazing" may not even be the word.
Ten Things We Did (and Probably Shouldn't Have)
reminds me so much of
The Truth About Forever
by Sarah Dessen and
13 Little Blue Envelopes
by Maureen Johnson. Pure, honest, fresh... innocent. Can I say it's innocent when April and Vi harbor a felon (#7)? Well, it is.
Ten Things We Did
is not just a love story; it's a story where the main character grows up and learns that sometimes it's good to do things you probably shouldn't.
Sarah takes us on this crazy and funny story of the first time a teenager lives alone. It's a dream world, right? April and Vi throw crazy parties (#8), cut school (#3), and of course, lie to their parents (#1). Nothing could go wrong. Right? Think again. With responsibility comes consequences.
Someone's got to do the laundry...
Living away from your parents is...well...not always fun. Sarah captures the honesty in what it is like to live away from your parents for the first time and the mistakes that are made. The little things Mom and Dad always do are now April and Vi's responsibility. While Vi is used to it, April isn't and it comes as a bit of a shock. Still, she's unique, quirky, slightly awkward, but most of all, fun; all of these character qualities translate into a wonderful story. I laughed, I cried, I worried, and got to drool over two boys vying for April's affection. These characters come alive in Sarah's writing. Y'all know what I'm talking about, right? April's story flows so perfectly. She is an amazing character and I loved her from page one. Sarah gives each of their character's their own life, their own story, their own secrets, and their own individual voice. She doesn't just create wonderful main characters, but wonderful, realistic supporting characters as well. Their voices are so diverse but stay consistent. Noah, April's boyfriend, is written perfectly. He acts exactly like a 16-year-old boy and leaves you guessing and wondering from, again, page one. Why
wasn't
he in the bed with her?
That, I think, is how a character should be written. You want to be friends with truly great people and characters and April, Vi, Marissa, Noah, Hudson and Dean are truly great characters. You not only read about the crazy party, you're there too, and get to (#9) help judge the Mr. Teen Universe Contest (yes, a MALE BEAUTY PAGEANT. I am not lying.)
We've all done things we probably shouldn't have, but just like Sarah wrote in my copy, "DO IT!"
So go do something you probably shouldn't**. It's good for the soul.
And if you still want to know who was in bed with April, well... read the book. =)
* Please don't judge me.
** Except if it's illegal. Illegal is BAD. Do only LEGAL things.